As another awards show passes, it's only appropriate to discuss the fashion present on the red carpet.  Celebrities spend thousands upon thousands of dollars crafting their perfect look in order to make a lasting impression during their few seconds of screen time.  Some succeed greatly, others do not.  Here's what I think are some of the best and  worst looks of the night:
BEST:
Janelle Monae- I think this dress is something we've never seen before, and I give her a lot of credit for taking risk.  She's pulling it off.
Elton John- This bedazzled take on a suit made his performance a lot of fun to watch.  Bravo on the color coordination of the glasses and the background.
Natalie Portman- Portman decided to go for more of a statement look, listing the names of all the female directors she felt belonged in the male-dominated nominee pool in gold down her jacket.  I think the subtlety of her message is something we don't see a lot, and it's really well done.
Sandra Oh- This look from the former Grey's Anatomy star received a lot of criticism, but personally I have no issues.  I would imagine it was bothering the people in the seats next to her, but she definitely looks like a movie star.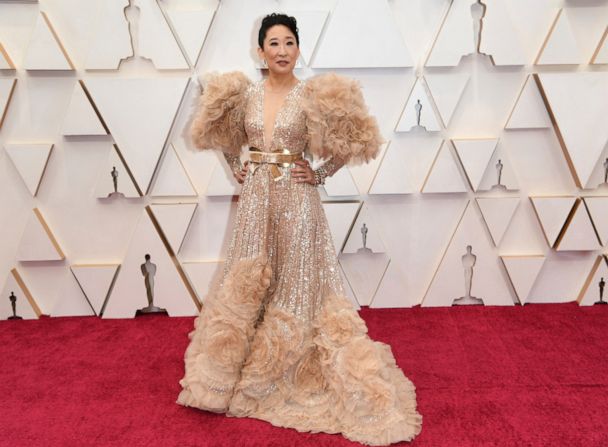 WORST:
Kristin Wiig- Don't get me wrong, I thought she was hilarious while presenting, but it was hard to focus on anything she was saying while she was dressed in this.  Never wear red on the red carpet.
Olivia Coleman- This had the potential to be very classy and elegant, but the shoulder cut-outs really ruin it for me.  Horrible.
Gal Gadot- This is probably my least favorite look of the night.  To me, she looks like a failed ballerina who's trying to show her "edgy" side by wearing a black lace top.  The colors and textures really just don't work together.  Also, take off the necklace.
Billie Eilish- After sweeping the Grammy's just a few weeks ago, Eilish is making an appearance at another awards show.  She has quickly become known for her out-of-the-box style, but this looks like something she stole out of Queen Elizabeth's closet and spray painted. I'm really not a fan.